Products
Standard Containers
A favorite with commercial customers.  Our most economical container.  Great for self storage,  trade lockups (tools, parts), equipment enclosures.  Double stackable.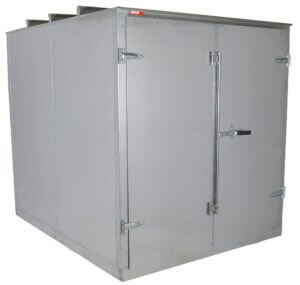 Modular Containers
Similar to the standard container, but smooth sided, and more "configurable" with side and double door options.  Easy to insulate.  Not double stackable.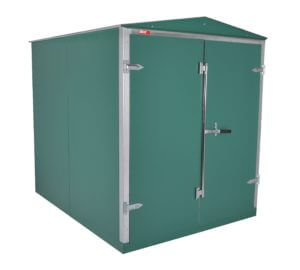 Sheds
Sheds are really modular containers with a peak roof option.  A variety of colors are available, or you can leave it as a galvanized finish.
Skid Containers
Portable and pallet rack able.  A mini container for trades, or an enclosure for pumps, generators, or electronics.
Storage Lockers
Equipped with adjustable shelving.  A heavy duty lockup for tools, or high value items.
Custom Containers
We have made a lot of custom containers for a lot of people.  Sometimes our standard sizes are not quite right.
Container Accessories
Accessorize to make the most of your container.  Shelving, racking, bins, tubs, hooks, you name it, we have it.
Out of sight, out of mind.  Bikes are stolen far too often.  A single lock is not enough.
Garden Accessories
Planters to match your containers.  Four heights, configurable in all kinds of ways.
Parking Storage
Use this dead space in your parking stall instead of valuable space in your apartment or condo.
Workspace Storage
Close the door and start again exactly where you left off without anybody messing with your tools.
Loading Ramps
Load your ATV, motorcycle, lawn tractor, snow blower or anything else that has wheels into your pickup, or onto your trailer.
Cargo Mobility Utility Ramps
Use these for mobility applications or where you are pushing the load up to a higher surface.
Medium duty cantilever style racks.
Pallet Racking Accessories
Safety bars in a variety of finishes and sizes.
Sea Container Accessories
Universal, side, and rear vents to fit most sea containers.